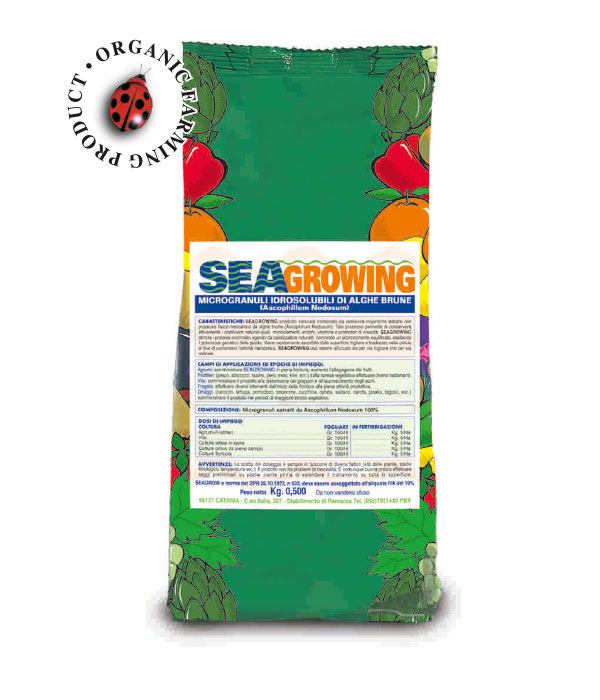 SEAGROWING®
ORGANIC FERTILIZER WITH WATER-SOLUBLE EXTRACT FROM BROWN ALGAE (ASCOPHILLUM NODOSUM)

SEAGROWING is a natural product composed of organic substances extracted through a physico-mechanical process from brown algae (Ascophyllum Nodosum). This method preserves the activity of natural constituents such as micronutrients, enzymes, vitamins and growth stimulators. SEAGROWING stimulates enzymatic processes acting as natural catalyst to promote balanced growth enabling the crop to fulfil its genetic potential. SEAGROWING is rapidly absorbed by foliar surfaces and moves into the cells increasing metabolic activity. SEAGROWING can be used both as a foliar application and in fertigation systems.
Composition
| | |
| --- | --- |
| Potassium Oxide (K2O) | 19% |
| Organic Nitrogen (N) | 1% |
| Betaine | 0,1% |
| Mannitol | 4% |
| Organic Carbon (C) | 20% |
Dosage and usage procedures
Citrus - Top Fruit
150 g/Hl (foliar)
5 Kg/Ha (fertigation)
Grapes
100 g/Hl (foliar)
5 Kg/Ha (fertigation)
Field and Greenhouse vegetables
100 g/Hl (foliar)
5 Kg/Ha (fertigation)
Floriculture
100 g/Hl (foliar)
5 Kg/Ha (fertigation)
According to the DPR 26.10.1972, n 633, for SEAGROWING has to be applied a 10% VAT.
Dosage always depends on different factors (plant's age, growth stage, climatic conditions, temperature, etc) and can be increased or decreased according to your requirements. 5-6 application are advised during the whole vegetative cycle. IN CASE OF FOLIAR APPLICATION, MIXTURES WITH COPPER BASED PRODUCTS TO BE AVOIDED.