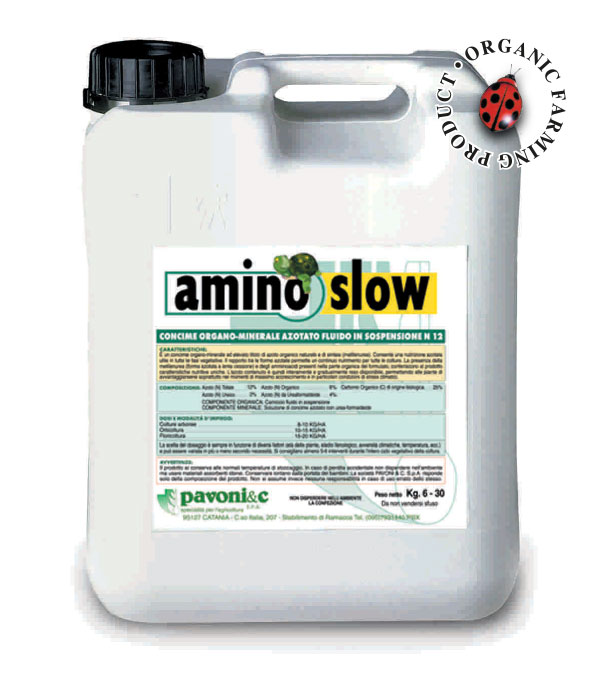 AMINOSLOW ®
LIQUID ORGANO-MINERAL FERTILIZER WITH SLOW-RELEASE NITROGEN

Organo-mineral fertilizer with a high content of natural organic and synthesised (methylenurea) nitrogen. It allows useful nitrogen nutrition in all vegetative phases. The particular ratio between the various forms of nitrogen provides continuous nutrition for all crops. The presence of methylenurea (slow release nitrogen) and amino acids (the organic part of the product) gives this formulation unique nutritive characteristics whereby the Nitrogen is entirely and gradually available. This is especially beneficial during periods of maximum growth and in conditions of climatic stress.
Composition
| | |
| --- | --- |
| Total Nitrogen (N) | 12% |
| Ureic Nitrogen (N) | 6% |
| Organic Nitrogen (N) | 6% |
| Methylene-Urea Nitrogen (N) | 4% |
| Biological Organic Carbon (C) | 25% |
Dosage and usage procedures
Citrus - Top Fruit
150 g/Hl (foliar)
20-40 Kg/Ha (fertigation)
Grapes
100 g/Hl (foliar)
30-50 Kg/Ha (fertigation)
Field and Greenhouse vegetables
100 g/Hl (foliar)
30 Kg/Ha (fertigation)
Floriculture
100 g/Hl (foliar)
30 Kg/Ha (fertigation)
Dosage always depends on different factors (plant's age, growth stage, climatic conditions, temperature, etc) and can be increased or decreased according to your requirements. IN CASE OF FOLIAR APPLICATION, MIXTURES WITH COPPER BASED PRODUCTS TO BE AVOIDED.