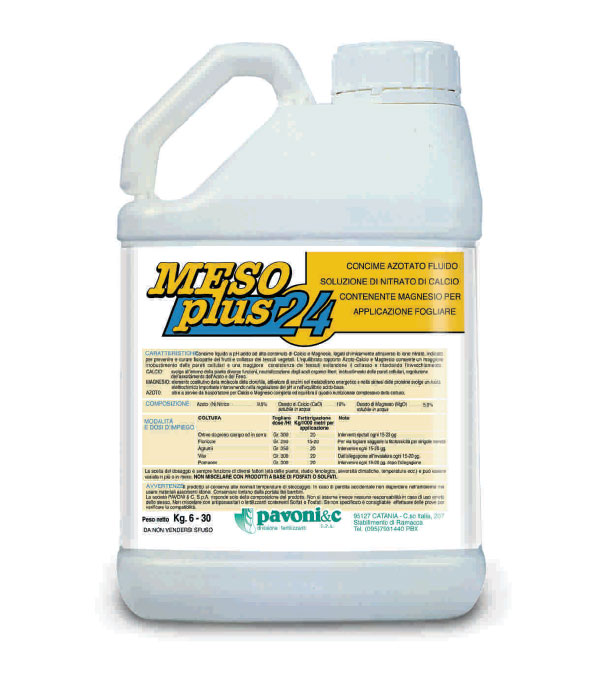 MESO PLUS 24
LIQUID FERTILIZER CONTAINING CALCIUM AND MAGNESIUM



MESOPLUS 24 is a liquid fertilizer with an acid pH and high concentrations of Calcium and Magnesium to prevent and cure physiological fruit disorders and plant tissue collapse. The balanced ratio between the Nitrogen-Calcium and Magnesium produces stronger cell walls and tissue development helping to prevent premature collapse and retarding ageing.
MESOPLUS 24 can be used both as a foliar application and in fertigation systems.
Composition
| | |
| --- | --- |
| Total Nitrogen (N) | 9,5% |
| Nitric Nitrogen (N) | 9,5% |
| Calcium Oxide (CaO) water soluble | 10,0% |
| Magnesium Oxide (MgO) water soluble | 5,0% |
Dosage and usage procedures
Citrus
350 g/Hl (foliar)
20 Kg/Ha (fertigation)
Grapes - Pomaceae
300 g/Hl (foliar)
20 Kg/Ha (fertigation)
Field and Greenhouse vegetables
300 g/Hl (foliar)
30 Kg/Ha (fertigation)
Floriculture
250 g/Hl (foliar)
3 Kg/1000 m2 (fertigation)
Dosage always depends on different factors (plant's age, growth stage, climatic conditions, temperature, etc). The product displays good miscibility and compatibility, however, we advise preliminary tests and treatment of a few plants before extending to the whole area. DO NOT MIX WITH FERTILIZERS CONTAINING PHOSPHOROUS.