CORRECTIVE-MICRONUTRIENTS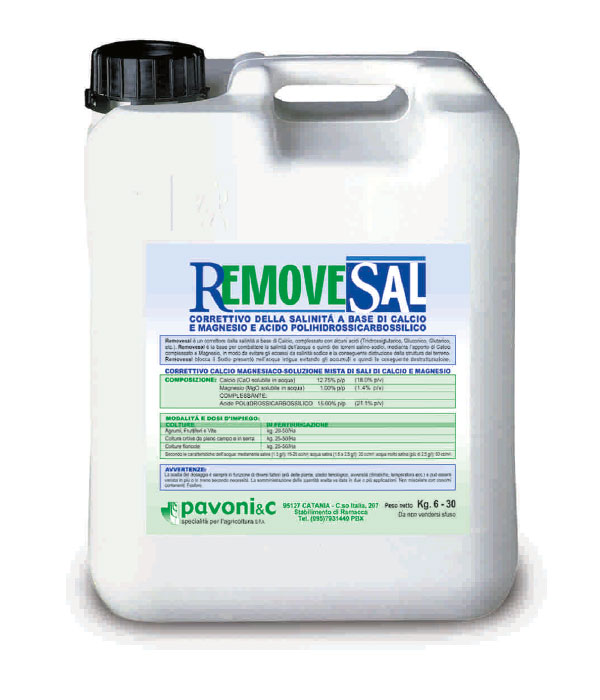 REMOVESAL
SOIL CONDITIONER BASED ON CALCIUM AND MAGNESIUM COMPLEXED WITH LINGOSULPHONATE AND HYDROXY-CARBOXYLIC ACID


REMOVESAL is a formulated with Calcium and Magnesium complexed with lingosulphonate and organic acid. The use of REMOVESAL is fundamental in fighting soil and water salinity. By supplying complexed Calcium and Magnesium, REMOVESAL locks-up excess Sodium in the soil water, preventing deposits and destruction of the soil structure.
Composition
| | |
| --- | --- |
| Calcium Oxide (CaO) water soluble | 12,8% |
| Magnesium Oxide (MgO) water soluble | 1% |
| Complexing agent | Lingosulphonate Acidified with Hydroxy-Carboxylic acid |
Dosage and usage procedures (fertigation)
Citrus - Top Fruit - Grapes
20-50 Kg/Ha
Field and Greenhouse vegetables
20-50 Kg/Ha
Floriculture
25-50 Kg/Ha
According to water characteristics
Slightly salty (1,5 g/l)
15-25 cc/m3
Salty (1,5-2,5 g/l)
35 cc/m3
Very salty (>2,5 g/l)
60 cc/m3
Dosage always depends on different factors (plant's age, growth stage, climatic conditions, temperature, etc). The product displays good miscibility and compatibility, however, we advise preliminary tests and treatment of a few plants before extending to the whole area.