CORRECTIVE-MICRONUTRIENTS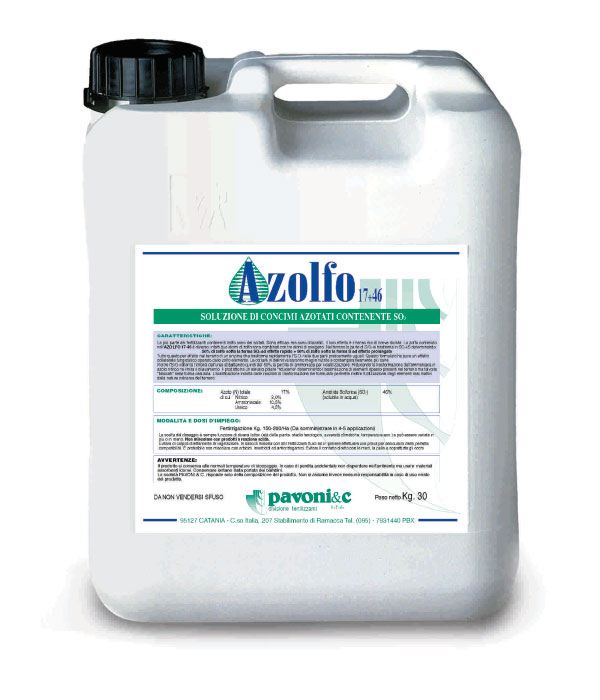 AZOLFO
17+46
LIQUID FERTILIZER FOR FERTIGATION CONTAINING READILY AVAILABLE NITROGEN (IN ITS THREE FORMS) AND SULPHUR



In the majority of fertilizers Sulphur is often contained as Sulphate an effective but easily leached form, giving an intense but short lasting effect. AZOLFO 17.46 however, contains Sulphur as S2O32- in which two Sulphur atoms are combined with three oxygen atoms. In the soil the S2O32- ion is transformed into sulphate ions (SO42-), readily available to the plant, and elemental Sulphur (S), which is absorbed more slowly and resists leaching. The high "reducing" power of this product allows intake of those nutrients "locked up" in the soil in their oxidized form. The acidification induced during the transformation reactions allows utilization of nutrients made unavailable by calcareous soils. Another important benefit of using AZOLFO 17.46 is the reduction of nitrogen losses from the soil. Used in combination with other nitro-gen fertilizers it acts as both urease enzyme and nitrification inhibitor, reducing nitrate leaching and ammonia volatilisation and allows a gradual intake of the Nitrogen present(*). The fungistatic effect of Sulphur makes AZOLFO 17.46 a formulation which gives healthier, better nourished crops.
As indicated in the Final Report of the Contract no AIR-CT94-1953 in which are shown the results obtained in the research project on S2O32- carried out by various European Institutes.
Composition
| | |
| --- | --- |
| Total Nitrogen (N) | 17% |
| Nitric Nitrogen (N) | 2,0% |
| Ammonium Nitrogen (N) | 10,5% |
| Ureic Nitrogen (N) | 4,5% |
| Sulphuric Trioxide (SO3) water soluble | 46% |
Dosage and usage procedures (fertigation)
| | |
| --- | --- |
| Citrus | 150-200 Kg/Ha |
| Top Fruit | 100-200 Kg/Ha |
| Grapes | 100-150 Kg/Ha |
| Field and Greenhouse vegetables | 30-50 Kg/Ha |
| Floriculture | 30-50 Kg/Ha |
Dosage always depends on different factors (plant's age, growth stage, climatic conditions, temperature, etc) and can be increased or decreased according to your requirements. DO NOT MIX WITH ACID PRODUCTS. Foliar applications to be avoided. If mixed with other liquid or powder fertilizers it's advisable testing miscibility first. Do not mix with herbicides, insecticides and fungicides. Avoid direct eye and skin contact.