CORRECTIVE-MICRONUTRIENTS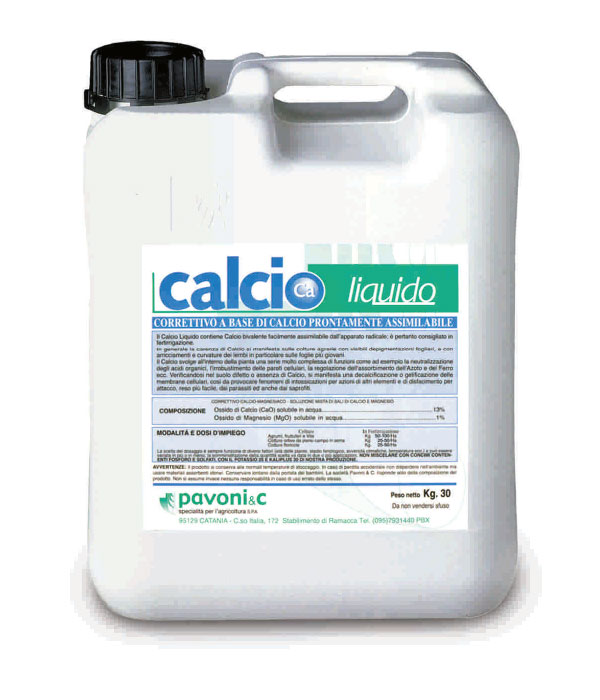 CALCIO
Liquido
LIQUID FERTILIZER WITH READILY AVAILABLE CALCIUM



CALCIO LIQUIDO contains bivalent Calcium easily absorbed by the root system and hence suitable for fertigation. In general Calcium shortage appears as visible foliar depigmentation and curling and bending of the leaf blades, especially in younger leaves. Within the plant Calcium performs important functions such as organic acid neutralization, cell wall strengthening and regulation of Nitrogen and Iron absorption. Calcium shortage leads to decalcification and softening of the cells walls.
Composition
| | |
| --- | --- |
| Calcium Oxide (CaO) water soluble | 13% |
| Magnesium Oxide (MgO) water soluble | 2% |
Dosage and usage procedures
Citrus - Top Fruit - Grapes
200-300 g/Hl (foliar)
50-150 Kg/Ha (fertigation)
Field and Greenhouse vegetables - Floriculture
200 g/Hl (foliar)
25-50 Kg/Ha (fertigation)
Dosage always depends on different factors (plant's age, growth stage, climatic conditions, temperature, etc). The product displays good miscibility and compatibility, however, we advise preliminary tests and treatment of a few plants before extending to the whole area. DO NOT MIX WITH FERTILIZERS CONTAINING PHOSPHOROUS, SULPHATES AND WITH OUR POTASSIO-25 AND KALIPLUS-30.